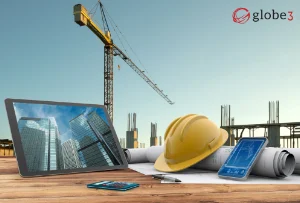 Posted on 15th May 2023
When a construction business considers streamlining its operations and administration, it must consider using an ERP solution.
Implementing an ERP system is the most excellent approach for a firm to accomplish this. While this may appear to be a scary proposition initially, we have discovered that the outcome more than justifies the means in the long run.
Enterprise Resource Planning (ERP) systems benefit organizations, especially construction firms. It aids construction companies in the management of their resources, such as personnel, equipment, and supplies. Thus, whether your organization already has an ERP system or is contemplating implementing one, it is vital to determine which ERP features would be most advantageous to your operations.
This article is helpful for businesses wishing to deploy construction ERP software since it describes significant insights into typical construction ERP modules and their key advantages.


Project Costing Management
This article is helpful for businesses wishing to deploy construction ERP software since it describes several ERP modules and their roles, as well as how to start the Project Costing Management process.
Project Costing Management gives businesses real-time visibility into their project processes and financial data. The module enables project managers to maintain their project budgets and actual expenses up to date in real time. It also ensures that no single cost component, such as material, labor, or overhead, is overlooked.
Moreover, construction firms frequently use Project Variations Orders for additions and exclusions. Any modifications, however, will be updated and linked to all other associated modules due to the Project Management Solution. As a result, creating an audit trail will reflect and analyze these changes and cost estimating and tracking.

Customer Relationship Management
Customer Relationship Management solution centralizes all critical customer data, including demographics and purchase history. It gives construction companies real-time access to all of their client's information. As a result, businesses can respond quickly to client needs, deliver a better experience, and ultimately increase customer happiness. As a consequence, companies may attract and keep more consumers.
CRM modules also aid in the improvement of sales efforts. Construction firms may segment sales pipelines, remain current on the sales process, and evaluate sales statistics. As a result, it will develop a good standard of practice of a step-by-step sales procedure that is trustworthy and accessible to all workers through Communication and Collaboration.

Financial Management
As the name suggests, financial management assists organizations in keeping track of current and future cash flow circumstances by tracking and documenting account payables and receivables. When generating an order, it also notifies the finance management and the salesman. It guarantees that their financial flow is secure.
Furthermore, this service assists businesses in tracking real-time financial data by giving detailed information on cash inflows and outflows. Additionally, the function allows customers to build and personalize financial reports based on the needs of their businesses. It might help with risk management situation monitoring and analysis.

Business Analytics
With a few mouse clicks, the Business Analytics module supports construction businesses in monitoring and evaluating their company to understand better and make timely choices. They may also track, assess, and watch the performance of different company processes and organizations. As a result, it will be easier for businesses to compare the performance of various company units and manage Project Scheduling and Planning.
Furthermore, corporations are well informed if any units or marketplaces underperform. Construction businesses can save the situation, define the next crucial steps in company strategy, and then prevent losses thanks to this accurate and timely information.
Also read: Construction Project Management Software: The Core Function
Building Your Company's Basis
Because each project has unique complexity in achieving a particular vision, the construction business relies on precision and efficacy. Utilizing ERP software helps simplify many procedures while maintaining quality. While independent construction management software is helpful, it is preferable to thoroughly incorporate it into a comprehensive ERP system. Globe3 Construction ERP software integration is a fantastic investment that may assist in enhancing several parts of your business.