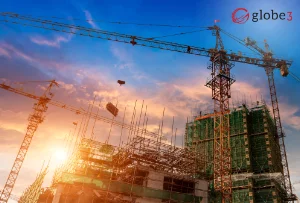 Posted on 6th Feb 2023
The construction industry contributes significantly to Singapore's economy; hence, it is critical to maintaining effective construction project delivery in Singapore. While construction projects vary in size, duration, and complexity, there are certain similar aspects. Project adjustments are one of the most typical issues in building projects. Modifications can occur at any project stage owing to various factors from many sources and can have significant consequences. Changes include additions, deletions, or adjustments to the project's scope.

With cost estimates and project tracking at the top of most construction businesses' priority lists, the ability to automate manual operations that consume valuable time and frequently result in human mistakes may be crucial to a company's bottom line and overall efficiency. Furthermore, having a single location for communication and administration throughout an organization allows individual teams to preserve their distinct methods while allowing the entire firm to function efficiently.

This article will answer the problem "What are the particular features of Construction Management Software ?" given that we know what it is and how it helps construction organizations on a high level.
What is Construction Management Software ?
Construction management software (CMS) is a project management system built primarily for construction professionals to make construction business procedures more accessible and efficient. CMS assists businesses in managing budgeting, communication, work scheduling, project estimate, and other construction management procedures by integrating them into a single coherent system. One of the primary reasons that more than 57% of construction organizations utilize construction management software is its capacity to efficiently coordinate management across many projects and employees spread across several locations.

Construction Software Singapore streamlines procedures and enhances project operations. CMS has various advantages, including improved collaboration, document management, project management , budgeting, ease, organization, resource management, adaption, and customization.

The following are some of the critical features of a Project Management ERP:
The achievement of any construction project begins with a well-planned and cooperatively developed timetable. A timetable that accurately coordinates the appropriate resources for the right job enhances communication between office and field teams and responds to real-time project changes.
Project teams may combine the contractual CPM activity schedule with field task management specifics using our construction management software for planning, scheduling, and resource management. Visual planning and execution options bring office and field personnel into a single community, project, and timetable. In addition, you may customize the solution to fit unique project requirements and consolidate best practices for all projects from anywhere and for any size project.
2. Construction Cost and Project Management
Complexity is increasing in all aspects of construction – synchronizing field and office, relying on outside teams, understanding massive volumes of data, and making quick judgments — all of which need increased digitalization to operate best. Unfortunately, legacy systems and spreadsheets used to handle projects over the years will not allow construction enterprises to develop and adapt fast in today's industry.

By gathering data with solid analysis, our cloud-based construction management software helps organizations create new projects swiftly, adapt to specific business requirements, and work leaner with teams. In addition, organizations with solid controls may automate, track, and manage budgets, commitments, spending, forecasts, and business processes inside and outside the supply chain.

3. Coordination of design and construction
Model management isn't only for designers. If the whole project is not centralized with the current model and plans, there is a danger of consistent project team outcomes and data, which slows processes and choices, and adds to errors and disagreements. Construction management software that includes a natural shared data environment allows the whole project team to work on models and plans while integrating all groups and data into the BIM process.

The centralized administration of the various main activities is critical during delivery to decrease the risk of unforeseen costs, delays, quality concerns, and liability exposure. Our construction management software system extends project management into the field, enabling delivery teams to address problems promptly and autonomously, increasing productivity.

4. Construction WIP Accounting
Work in Progress (WIP) accounting allows project managers to track the value of incomplete projects or work orders and understand the financial impact of ongoing work. Using "% complete" statistics may subsequently be utilized to produce reports and track project development. For example, if a WIP report reveals that a project is 30% complete but has eaten up 70% of its budget, you may predict it will exceed it.

As a result, firms may take action before it is too late, encouraging a more proactive rather than reactive approach to project management.Furthermore, WIP reporting allows you to generate detailed financial accounts detailing expenses on various projects and where. As a result, a business owner can use it as guidance for broader decision-making, particularly about the company's overall financial health and increased bottom-line profitability.
Read More : Construction WIP with ERP software
Conclusion
Globe3 ERP Project Management is one of the Best Construction ERP Software designed for the Singapore construction sector.
Globe3 Enterprise Resource Planning (ERP) Systems encompass the whole company process, from project tendering through customer and subcontractor claims. Certification, unified project cost monitoring, buying with inventory management, and configurable project billing procedures are all included.
Our Project Management Software also enables information to flow effortlessly between your corporate headquarters and the project site office. Get a greater success rate in project proposals, total control over project expenses that stay under budget, better labor allocation, increased revenues, and more straightforward project execution with the Globe3 ERP System.