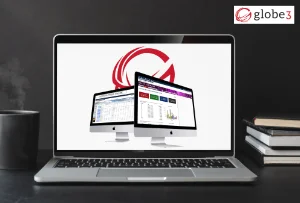 Posted on 13th Sept 2023
Top 5 ERP Systems in 2023
Businesses in today's digital era require efficient and automated management systems to improve accuracy and productivity. One such technology that is highly sought after by businessmen is competent cloud-based modern ERP software. As a result, numerous ERP tool providers have emerged to meet the high demand in Singapore. However, it is crucial to choose the right system that caters to your business needs. In this article, we have compiled a list of the top 5 ERP system providers that we believe can assist you.


Globe3 ERP
Globe3 ERP is a comprehensive, cloud-based Enterprise Resource Planning (ERP) software solution based in Singapore. Globe3 ERP helps businesses streamline operations and increase productivity with a user-friendly interface and customizable features. Its key features include financial management, enterprise project management, manufacturing management, supply chain management and human resource management. Our ultimate vision is to establish Globe3 as the undisputed leader in Enterprise Resource Planning (ERP) solutions, setting the industry standard for excellence. Our aim is to create world-class software that offers unparalleled functionality, scalability, and flexibility to meet the unique requirements of Medium to Large Enterprises.
Odoo ERP
Odoo is also one of the best ERP systems in the market thanks to its functionalities and its top-notch user experience. Odoo is designed to promote compatibility with other software, centralizing different processes in a single platform that is accessible from any device. This software system is also open-source, which means that it is highly adaptable to the necessities of every business and industry.

HIGHNIX ERP
Highnix ERP is an integrated business management software that offers financial management, procurement, inventory management, and project management solutions. Its user-friendly interface and flexible features make it a popular choice for businesses in Singapore. Highnix ERP's mission is to help companies to achieve operational excellence and sustainable growth through innovative software solutions.

KATANA
Katana is a manufacturing ERP that prioritizes usability and functionality, offering a platform that is powerful and easy to use. This ERP system is constantly evolving and adding new functionalities based on customers demands. In this way, Katana scales with your business. Its end-to-end platform can be integrated with popular eCommerce platforms, accounting and reporting tools, and even allows you to create custom workflows with Katana open API to better define your processes.

MATIYAS
Matiyas is a leading provider of cloud-based ERP solutions for businesses in Singapore and worldwide. Its key features include financial management, inventory control, project management, and customer relationship management. Matiyas' mission is to help businesses achieve their goals by providing a comprehensive and customizable ERP system that meets their needs.

The Best ERP that meet your needs
Here are the best ERP software systems for 2023, featuring 5 brands. Each of these software solutions offers unique features and benefits.
However, Globe3 ERP is an excellent choice for businesses operating in various industries in Singapore because of its user-friendly interface, flexibility, and comprehensive end-to-end business solutions. The complete modules of Globe3 ERP, including construction management software, supply chain management, material requirement planning software, and human resource management, provide businesses with the necessary tools to achieve their goals. Globe3 team is dedicated to empowering businesses in Singapore to reach their full potential and help them succeed.