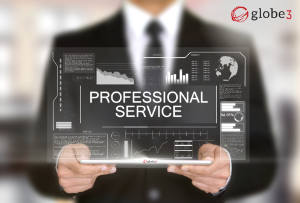 Posted on 19th May 2023
Many professional services firms might have never heard of ERP or believe that ERP systems are only appropriate for industrial organizations. Whereas most ERP vendors first designed their solutions for the manufacturing sector, these systems now provide an excellent variety of capabilities that all professional services firms use at a meager cost.
The Enterprise Resource Planning System (ERP System) helps organizations in various industries, including the services industry, to thrive in these competitive times. ERP software is one of the technological instruments that each professional services organization should examine. Businesses in various sectors utilize this technology to automate and improve business operations. In this article, we will review some of the key ERP modules for professional services.

What is the best ERP software for Professional Service Firms?
Several ERP solutions for businesses are available, each tailored to particular industries and professional services sub-sectors, as well as enterprises of varying sizes. The most special Professional services ERP software on the market may need to be more cost-efficient for your organization and may work against you rather than for you. As a result, we propose analyzing many prospective Professional services ERP solutions to determine which one is ideal for you. Our ERP comparison tool can help you locate ERP options depending on your industry, business size, or preferred deployment method.

3 Main ERP Modules For Professional Service Firms
Professional service firms have different criteria than industrial firms. Most of the essential functionality of ERP systems, including financial management, human resources management, and purchasing, is universal across all industries. While the manufacturing sector's ERP systems focus heavily on planning, developing, and producing a physical product, ERP systems can assist professional services firms in project planning and development.
Many service organizations still use spreadsheets to manually record all transactions and costs, which is surprising in such a project- and people-centric industry. Any human error in this critical area of the company can have severe consequences for the service provided to a client.

Business Intelligent and Analysis

With easy access to precise and current data from databases, Business Analytics enables organizations to develop service reports more easily. All they have to do is 'drag and drop' the data components they wish to study. Consequently, service companies may save money by not hiring an expert to build a report template. Service businesses will track, measure, measure, and monitor the success of multiple company activities and organizations. As a result, they may compare the performance of different business units using statistics or visual graphical representations, allowing them to make quick and critical business decisions.



Customer relationship management

Customer relationship management (CRM) is also necessary for the smooth operation of a service organization. CRM, frequently offered as an ERP module, covers contact management, sales activity monitoring, marketing, and customer care. These procedures' manual administration is minimal by incorporating CRM into an ERP system. As previously said, the professional services industry is highly people-oriented. Each function interacting with customers, such as customer service, must execute flawlessly. In this case, an ERP system is helpful since it guarantees that all essential functions perform in unison. Furthermore, the functionality assists service providers in providing better customer service. It collects and categorizes critical client data like demographics, purchase history, etc. It means that all staff may follow up with real-time information from their clients to meet their needs on time, thereby boosting their happiness.



Project / Workorder Management

An ongoing issue for consulting companies is to master resource management to recruit and retain the correct knowledge and use it at the right time. Consultancies have a clear perspective of resource availability because of ERP. They can identify possibilities to accelerate delivery and decrease bench time when combined with project planning perspectives. Combined with advanced historical project data, they can rapidly determine which skills to acquire and keep and how to employ them effectively. Along with it, thorough budget and margin information from previous projects can assist them in pricing accurately and maximizing income per client and project. Data is also essential for consultants to pivot as needed, make critical judgments, and produce the most remarkable client outcomes. ERP for consulting businesses reduces silos by delivering real-time project tracking information, resource allocation and scheduling, and centralizing project files, statements of work, and relevant information in a single transparent system, allowing consultants to provide customers with faster and better services.


Selecting the Best ERP Modules for Your Company
While the ERP modules a corporation should invest in might vary depending on the business model, industry, present challenges, and other considerations, most businesses require a few modules to manage their operations. Every business needs a finance and accounting module to function, monitor its financial health, and guarantee the payment of bills. Running a business is tough without software that gives financial information and performs basic accounting chores.
An effective change management strategy can ease your transition if you consider Globe3 ERP implementation. But creating a change management plan takes much effort, and that's where we come in. We offer the best ERP software in Singapore and have all the resources you need to help you have a hassle-free ERP implementation. Contact Us now to request a free consultation!