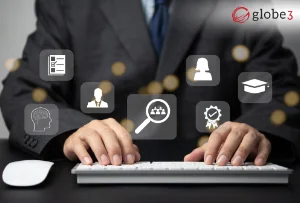 Posted on 5th May 2023
Businesses of all sizes and sectors already use Human Resource Management Software(HRMS) as one of the most beneficial business solutions. One of the biggest challenges HR roles have in common is that they rely heavily on data processing. HR professionals can now decrease and simplify administrative activities like payroll and record keeping thanks to the benefits of cloud HR software. It includes HR efficiency since cloud technologies are already in place to manage payroll, personnel acquisition, data management, and productivity.

These are three areas where cloud HRM Solutions might help your firm increase overall efficiency;
1. Provide data security
Companies working with cloud suppliers for the first time are frequently concerned about the security of their data in the vendor's hands. It is especially true for HR-related data containing demographic and financial information. When you hire a vendor to build a cloud-based HR system, they take considerably better care of application and data security.
The critical aspect is that cloud software is produced with safety in mind from the start, with programs and data housed remotely and encrypted data transmitted to the client side only when necessary. The second component controls and regulates physical and ID-based data access. It is also handled better by the cloud vendor.

2. Increase Employee Engagement
Cloud HR solutions use big data and mobile technologies to improve employee engagement. For example, using a platform like Globe3 ERP, HR can send a pulse survey to workers in minutes to obtain input on how the organization can better serve them. Cloud HR systems might also aid with time tracking and payroll management.
There is no doubt that HR departments have discovered over the last decade that employee engagement is a critical source of competitive advantage. Customer happiness, knowledge sharing, interest from new candidates, company agility, and bottom-line profitability are all influenced by engagement. As a result, HR software could boost businesses efficiently to help personalize the workplace and increase long-term productivity.
READ MORE: Human Resource Management with ERP Software

3. Payroll and expenses
Cloud-based applications now support payroll and costs. Activities formerly time-consuming and unpleasant, such as expenditure reporting, are now sped up to excellent efficiency thanks to simple software. You may have already invested in costly and time-consuming software and technology to enable these procedures. This is where cloud accounting software comes in handy.
Meanwhile, consider setting up direct debit collections, which collect direct debit in conjunction with other cloud services. In that case, cloud solutions are often regarded as crucial for corporate efficiency but are not considered the center of an effective HR and people management policy. Nevertheless, cloud technology may be helpful.

Conclusion
Successfully managing your employees in the face of increasing competition can be challenging. However, clouds are the way of the future. This essay explains how a cloud HCM increases your HR department's productivity and operational effectiveness.
The ideal cloud Human Capital Management simplifies your everyday chores and creates a positive experience for your staff. Monitor performance, employee engagement, law & compliance, and the latest HRM trends in one location.
Let us assist you if you are searching for a scalable platform that incorporates services such as payroll, attendance, and more. Contact Our Specialists to identify the best cloud solution for your needs.