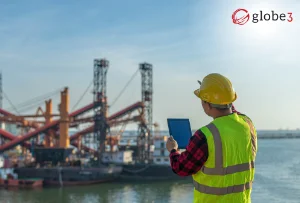 Posted on 20th Feb 2023
The Marine Offshore industry may face challenges such as changing environmental regulations, high-risk work conditions, engineer training, increasing fuel prices, geopolitics, trade wars, etc. This problem is made even more complicated by the pandemic. Therefore, this article focuses on the three most significant challenges of global shipping logistics: people, technology, and the environment.

Issue #1: Challenges with training and development programs:
The main issue facing many members in short to long term is finding and keeping employees to fill the expanding skills gap. Marine professionals may need more qualified personnel, particularly those with hands-on experience, to support their workforce management and talent development.
However, the traditional command and control approach discourages younger generations from taking up careers at sea, as they adapt better to a challenge and response mechanism. To attract and retain talent, the maritime industry will be responsible for ensuring science, technology, engineering and mathematics (STEM) subjects are sufficiently promoted and encouraging STEM graduates to enter subject-related fields upon completing their studies.
Issue #2: Challenges with newly implemented technology
Many professionals expect to see an expansion of autonomous shipping, increased digitization, more artificial intelligence (AI) systems, and port operation automation. However, they highlight their challenges, such as the decline of the marine engineer due to advanced technology adoption and innovation with leveraging technology in shipping to improve margins and efficiency.

As a result, it increases operational efficiency and cost control through better analytics, decision-making and automation. In addition, AI helps maintain and improve health, safety and environmental (HSE) compliance and aids navigation and route optimization.
Issue #3: Challenges with environmental challenges
Environmental issues were the highest priority for marine engineers over the medium to long term. Maritime professionals may face the ability to adapt to the changing environment: air pollution, water pollution, acoustic, and oil pollution. However, they also operate in challenging work conditions/environments: large-scale climate events, rough seas, stormy areas, etc. In addition, offshore exploration and production faces the challenges of poor engineering in environmental solutions and environmental rules, regulatory frameworks and standards, and green practices.

Therefore, Marine contractors should focus on galvanizing efforts to minimize the carbon footprint in the marine industry and address ecological concerns. Today, shipping companies offer traditional and online shipping services, inbound inventory management, digital warehousing services, asset management and maintenance, and warehouse fulfillment. These aspects include numerous intricate tasks and practices using an ERP to handle the international shipping Industry.

Why choose us?
Globe3 ERP system helps in the planning, management, and execution of each shipping and logistics project. In addition, Globe3 ERP with customized modules can help generate the documentation and approvals with one click from the system right after you pass all the records into the system.

Key Features of a Globe3 ERP System for the Maritime Industry:
Automation
Accounting
Inventory Control
Comprehensive Visibility
Multi-currency Exchange Rates
Cloud Storage
Access to Mobile Version
Fully Integrated Database
Accurate Forecasting
Risk management and mitigation
To know more about how Globe3 ERP can effectively solve your problem to save time and money, Contact Us today for a free consultation!

Need An ERP Solution?
If you have any questions, please do not hesitate to contact us and we will get back to you shortly.
Contact Us