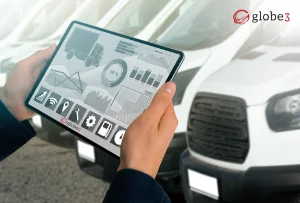 Posted on 12th May 2023
Supply Chain Management (SCM) manages the flow of goods and services from the manufacturer to the end consumer. It involves coordinating and integrating various activities such as sourcing, procurement, production, logistics management, and customer service.
At Globe3 ERP, a Supply Chain Management company in Singapore, we offer a comprehensive SCM module that allows businesses to streamline their supply chain processes, optimize inventory levels, and improve overall efficiency.
Our SCM module integrates with other Globe3 ERP modules, such as purchasing, inventory management, and production scheduling, to provide a complete end-to-end solution for managing your business operations. Feel free to explore more about Globe3 ERP Supply Chain Management Module!

With Globe3's SCM module, businesses can improve their supplier management by tracking supplier performance, managing purchase orders, and ensuring the timely delivery of goods. The module also enables real-time monitoring of inventory levels and provides insights into demand forecasting, allowing businesses to make informed decisions about their inventory levels.

In addition to these features, our SCM module supports advanced transportation planning and scheduling, enabling businesses to optimize their production processes and reduce waste. With our SCM module, companies can achieve greater visibility and control over their entire supply chain, leading to improved productivity and reduced costs.
Visit our website to learn more about our SCM module. Good points: Key Objectives of Supply Chain Management.

Here are the highlight features of Globe3's Supply Chain Module:
1. Stock Master Control optimizes inventory, allowing businesses to manage their stock accurately. The stock master control feature enables companies to track inventory levels, set reorder points, and manage stock movements.

2. Bill of Materials (BOM) enables businesses to manage their production processes effectively. The module supports creating and managing BOMs, allowing the firms to track the components required for production and manage production costs. ALSO READ: Globe3 ERP Material Requirements Planning Module

3. Purchase Order Management provides comprehensive purchase order management capabilities, allowing businesses to manage their procurement processes effectively. The purchase order management feature enables businesses to create, manage, and track purchase orders, ensuring timely delivery of goods.

4. Sales Management supports sales order tracking, enabling businesses to manage their sales processes efficiently. The sales order management feature allows businesses to create, manage, and track sales orders, ensuring timely delivery of goods and services.

5. Credit Control Manager helps businesses manage their credit control processes effectively. The credit-control manager feature enables companies to manage their accounts receivable and ensure timely customer payment.

6. Warehouse Management allows businesses to manage their warehouse operations effectively. The warehouse manager feature enables companies to track inventory movements, manage warehouse space, and optimize warehouse operations.

7. Inventory Control provides advanced inventory control capabilities, allowing businesses to manage their inventory levels effectively. The inventory control feature enables companies to track inventory levels in real-time, set reorder points, and generate inventory reports.

8. Asset Management supports asset management, enabling businesses to track their fixed assets effectively. The asset management feature allows companies to track asset movements, manage maintenance schedules, and generate asset reports.

9. Lease Management provides lease management capabilities, allowing businesses to manage their leased assets effectively. The lease management feature enables enterprises to track lease agreements, manage lease payments, and generate lease reports.

To Summarize
Supply Chain Management Solution of Globe3 ERP has become a powerful tool for businesses in Singapore to improve their supply chain processes and overall operational efficiency. Its highlight features offer a wide range of features that enable enterprises to optimize inventory levels, improve supplier relationship management, and streamline production processes. Singapore has many reliable ERP software providers, including Globe3 ERP, offering ERP software for various industries and supply chain management solutions. By utilizing the advanced features of Globe3 ERP software, businesses can increase productivity, achieve their goals efficiently, and gain a competitive edge in the market.

Unlock the power of ERP solutions in Singapore with Globe3 Team.
Don't hesitate to schedule a Free Consultation and gain access to some of the best software available. Our team of experts will provide valuable insights and guidance on optimizing your business operations. So say goodbye to inefficiencies and hello to streamlined processes with Globe3's top-tier ERP solutions.