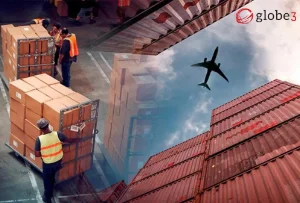 Posted on 12th Jun 2023
With advanced growth and client demands dominating, wholesale distribution organizations are pressured to develop better tactics. Distributors are challenged by increasing competition and supply chain disruption, making providing timely products and services harder. Traders and distributors must differentiate not just on the items they sell but also on their services. These are examples of pre-packing or kitting, unique delivery services, and additional customer-specific services to develop connections.
Landed Cost Management, Supply Chain Management (SCM), and Warehouse Management are advocated as crucial answers to these difficulties. In today's essay, we will assist the Trading and Distribution industry in exploring and obtaining precise Warehouse Management recommendations.
An Overview of warehouse management systems
A warehouse management system supervises all warehouse activities. This comprises personnel training, monitoring the movement of items to and from the warehouse(s), inventory management and control, shipping, storing, and receiving transactions, and workload planning.
An automated warehouse management system generates continuous data that can be used to build new efficiencies and aid in strategic planning for the warehouse and the whole supply chain.


The need for Warehouse management systems in the T&D industry
A warehouse management system (WMS) is essential to any supply chain, logistics, and transportation management system. Integration of such a system can help your firm expand in a variety of ways:
→ Faster inventory turnaround: By establishing and managing inventory data so they are constantly up to date, a WMS helps shorten your lead times. This contributes to the now-expected speedy delivery environment and reduces spending on emergency inventories. Most significantly, it assists in managing your cash flow and working capital.
→ Warehouse process optimization comprises automation and management of all equipment. Getting real-time data on all warehouse activities aligns the WMS with the broader company plan.
→ Inventory transparency: Knowing where each item or SKU is located in the warehouse is essential in a quick delivery environment. A WMS may increase space utilization by sorting, arranging, and finding things for immediate receipt, packaging, and shipment.
→ Reduced paperwork: Every firm has paperwork, but more paperwork may help the supply chain by slowing it down and costing it market share. A warehouse management system can help you decrease paperwork while optimizing inventory and information.
→ Tracking movement and shipping: Understanding the cycle counts of warehouses and activity within and around them allows for more accurate planning and inventory.
→ Improved labor productivity: Instead of wasting time dealing with returns, a WMS guarantees that orders are proper so that employees can focus on processing and distributing items.
→ Better customer service: All the results mentioned above are in happy consumers, who may become loyal to businesses and repeat customers.
→ Security: No matter where products and goods are in the supply chain process, they can be continually monitored.
→ Accuracy: An integrated WMS improves inventory and warehouse monitoring efficiency, which minimizes capital expenditure.

Strategies for Warehouse Management and Fulfillment
Trading&Distribution companies may deliver items quicker, reduce waste, and improve customer experience by selecting appropriate fulfillment solutions for their size and volume. Numerous companies have experimented with various picking tactics, including batch picking, zone picking, FEFO (first expired, first out) picking, and FIFO (first in, first out) picking.
Warehouse fulfillment plans must also use advanced technology. With correct labeling by batch number, lot number, serial number, or barcode system, ERP software may assist in reducing picking time and accuracy. As the CRM module is updated, the system also helps to improve customer satisfaction by gathering relevant information across related departments and is ready for Digital transformation.


Warehouse KPIs to monitor logistics performance
Warehouse KPIs are measurements used to calculate and regulate the efficiency of a facility's T&D activities. These KPIs (key performance indicators) allow you to determine stock management strengths and deficiencies in E-commerce and omnichannel retail. Managers may use these warehouse KPIs to monitor process throughput, identify areas for improvement, and make choices based on the actual productivity of each location in the facility. There are several warehouse KPIs for logistics management. Many criteria should be considered while selecting the metrics that will be critical for understanding how storage, order fulfillment, and dispatch activities are done. They include, among other things, the facility's features, the location of the products, and the sort of product or unit load to be kept. These business intelligence and analytics are efficient.


Value Creation Through Specialization, Logistics, and Customer Access
With advanced growth and client demands dominating, wholesale distribution organizations are under pressure to develop better tactics. Traders and distributors must differentiate not just on the items they sell, but also on the services they provide. Pre-packing or kitting, unique delivery services, and additional customer-specific services to develop connections are all examples of this. Globe3 ERP gives you the power and visibility you need for contemporary trade and wholesale distribution. We provide the most adaptable and agile warehousing and distribution systems available. Our solutions help businesses boost operational agility and client revenue by providing insight and control across many sectors. Are you ready to increase earnings and develop your business? Globe3 ERP is here to help!