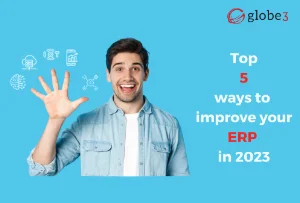 Posted on 17th Jul 2023
The Enterprise Resource Planning (ERP) system environment is set to experience a considerable transition in 2023, owing to rising cloud use, advances in artificial intelligence (AI), and shifting client needs. ERP has evolved significantly throughout the years. Traditionally, ERP systems were on-premise solutions requiring considerable hardware and software investment. Several companies are migrating to cloud-based ERP solutions, which provide better flexibility, scalability, and accessibility. With the development of mobile devices, top-tier ERP software firms in India are developing mobile-friendly ERP systems. Many suppliers offer mobile applications that allow employees to access ERP data on the move. ERP systems are becoming more connected with other systems as firms rely on more applications and technologies, allowing for more data visibility and simplifying processes. ERP systems rapidly incorporate new technologies like artificial intelligence, machine learning, and blockchain for more effective and intelligent decision-making.
Key Takeaways
Companies are continuing to migrate to cloud ERP. According to Statista, the worldwide cloud ERP industry will expand by 13.6% per year and reach $40.5 billion by 2025.
AI, especially machine learning, may assist in streamlining more company operations, generating new insights, and developing individualized consumer experiences.
ERP is being integrated with other technologies, such as Internet of Things (IoT) devices and social media, to automate further and give more insight and a better customer experience.
A remote work solution has become crucial as firms increasingly rely on distributed workforces after the coronavirus.
Here are the top 5 ERP trends expected to shape the market in 2023:
1. Using Cloud ERP
Many firms have traditionally utilized on-premises ERP solutions and have hesitated to trust essential business processes to the cloud, but this is changing quickly. Businesses are adopting cloud ERP to benefit from more straightforward deployment, lower costs, elasticity (the ability to use only the resources required at any given time), new functionality, less reliance on internal IT resources, and the ability to add users and functions to accommodate business growth easily.
The pandemic has highlighted the advantages of cloud ERP. It has hastened the transition from on-premises software, partly because cloud-based apps enable staff to operate from anywhere with an internet connection - they don't need to be in an office. Some CFOs are boosting their investment in cloud ERP to drive savings and better assist their remote workforce in saving expenses amid economic uncertainties. According to a 2020 poll of finance professionals, 20% intend to spend more on cloud ERP technology.nce.
2. Upgrade and integrate capabilities
While contemporary ERP is a crucial component of a company's digital transformation, it is simply one component of an enormous technological investment. Businesses combine their apps with other innovative technologies, such as IoT, to improve fundamental operations. Retailers, for example, utilize warehouse management systems to track the flow of items throughout the warehouse by collecting data from mobile scanners and intelligent conveyors. ERP and e-commerce integration are used by certain businesses to optimize online order workflows by automatically initiating order fulfillment, updating inventory levels, and recording payment.
There will be a more vital link between social media and ERP. In the coming year, Companies may acquire a more thorough picture of their audience by monitoring the social media activity of customers and prospects in one location, allowing them to improve their digital marketing tactics and the customer experience. Companies may acquire additional insights into the whole sales process and experiment with new methods to target and sell by combining data from social media interactions with sales order history and client contact.
3. Digital transformation
Integrating digital technology into all corporate tasks to improve daily operations is called digital transformation. This technique may increase income and competitiveness while boosting staff productivity, customer service, and communication.
Because an ERP system often affects almost every aspect of a business, it's a sensible place to begin to aid this shift. Moreover, according to Accenture's 2020 ERP Trends research, three-quarters of UK organizations use cloud ERP as a doorway to modernization. The digital transformation includes various developments, such as integrating IoT devices with ERP and utilizing advanced analytics and AI.
4. Mobile ERP
ERP suppliers have long provided mobile functionality, and mobile applications are becoming the standard. ERP solutions are expanding to give mobile access to essential corporate data, allowing employees to do back-end and front-end operations from the warehouse floor to a retail checkout terminal to an airport. Mobile ERP may also let distributed workforces in various time zones collaborate.
Mobile ERP apps with a user-friendly interface can assist users in completing tasks while not in front of a computer. Workers may use their phones to accomplish duties like cost reporting, call logging, and time tracking, as well as to check the progress of essential workflows or approvals. Globe3 Mobile ERP provides real-time data and insights and overall benefits such as always-on remote access, higher productivity, faster and more accurate data gathering, and increased agility.
5. AI-Powered Enhances and Insights
Behind the scenes, artificial intelligence and machine learning capabilities incorporated in ERP systems assist in fulfilling the rising demand for customization and improve a wide range of business operations. While firms could previously add AI features to some ERP systems, many vendors now provide ERP software with these capabilities built in. AI may provide significant benefits to organizations, such as:
Additional information. As businesses collect more operational and consumer data than ever before, they look to AI to provide essential business insights based on that data. AI systems scan massive volumes of unstructured data, swiftly identifying patterns and predicting numerous trends that would be impossible to detect with manual number crunching alone.
Processes have been improved. AI assists in the automation and improvement of a wide range of operations. Consider a manufacturer who uses a just-in-time inventory strategy to provide components at the last feasible minute to reduce inventory carrying expenses. Machine learning, a kind of AI, may optimize supply delivery and labor schedules to boost efficiency and minimize costs. According to IFS's 2019 report, 40% of manufacturers expected to utilize AI for inventory planning and logistics, while 36% planned to use it for production scheduling and customer relationship management.
Empower your business with Globe3 ERP and take your operations to the next level!
Globe3 ERP is the perfect solution for businesses looking to streamline their operations and increase efficiency. With its comprehensive suite of features and user-friendly interface, Globe3 ERP empowers organizations to make data-driven decisions and achieve their goals. Whether you're a small startup or a large enterprise, Globe3 ERP has the tools you need to succeed. Save time struggling with outdated software or manual processes. Switch to Globe3 ERP today and experience the difference firsthand.
Contact Us to learn more about how Globe3 ERP can transform your business.