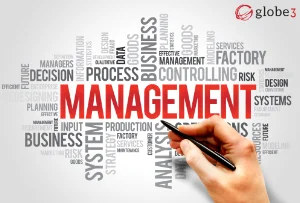 Posted on 3rd Jul 2023
Enterprise Resource Planning (ERP)is a software solution that helps businesses integrate and manage processes such as inventory and procurement, finance, and human resources. It provides a comprehensive approach to managing various aspects of a business. With the help of ERP, by streamlining their operations, businesses can boost efficiency and gain valuable insights into their processes. One critical aspect of ERP is Management Control System , which helps businesses manage their resources effectively. In this article, we will explore how management control works in ERP and the key features that it offers.
What is Management Control?
Management control ensures that a company uses resources wisely to reach its objectives. In an ERP system, management control is achieved through various features such as performance monitoring, financial metrics, key performance indicators (KPIs), compliance management, workflow automation, approval processes, governance, risk management, budgeting and forecasting, variance analysis, dashboards, and reports, business intelligence (BI), data analytics, process optimization, and continuous improvement.
Management control ensures that organizations maximize resources efficiently and effectively to achieve their goals. It involves setting up systems and procedures that enable managers to monitor and control the organization's performance. In an ERP system, management control is achieved through various modules like finance, inventory, and production, which provide real-time data on the organization's operations. These tools and techniques include performance metrics, key performance indicators (KPIs), dashboards, reports, and analytics.
Key Features of Management Control in ERP Module
1. Performance monitoring
It is one of the critical features of management control in ERP. It enables businesses to track their performance against their goals and objectives. By monitoring their performance regularly, businesses can identify areas where they need to improve and take corrective action immediately. Financial metrics are another crucial aspect of management control in ERP. They give businesses valuable insights into their financial performance, including revenue, expenses, and profitability. Businesses can make informed decisions regarding investments, expenditures, and pricing strategies by analyzing financial metrics.
Businesses utilize KPIs, which are performance indicators, to measure their progress toward achieving their goals. An ERP system can tailor KPIs to suit the particular needs and objectives of the business. Regular monitoring of KPIs enables businesses to identify areas that require their attention to accomplish their goals.
2. Workflow management
Workflow management is a cornerstone within ERP systems, integral to the efficacy of Management Control Modules. Its role is meticulously designing, automating, and overseeing intricate business processes. This orchestrated approach facilitates harmonious interdepartmental coordination, expedites task execution, and enables swift data transmission. By establishing streamlined workflows, businesses reap the benefits of heightened operational efficiency, reduced bottlenecks, and fortified cross-functional collaboration.
This comprehensive system optimizes resource allocation, tracks task lifecycles, and furnishes real-time insights into ongoing processes. Consequently, enterprises gain the capacity for informed decision-making, operational agility, and sustained growth, all orchestrated through advanced workflow management within their ERP framework.
3. Finance management
Managing governance and risks are vital components of management control in ERP. They assist businesses in effectively managing their risks and adhering to governance regulations. By implementing governance and risk management procedures, companies can minimize financial loss, damage to reputation, and legal liabilities.
Furthermore, budgeting and forecasting play an essential role in management control in ERP. These features allow businesses to create budgets and forecasts based on past data and future projections. By regularly monitoring their budgets and forecasts, companies can identify areas where they need to modify their plans and take corrective measures.
4. Variance analysis
It enables businesses to analyze the variance between their actual and planned performance. Regularly conducting variance analysis can help businesses identify areas to improve performance and take corrective actions.
Dashboards and reports, business intelligence (BI), and data analytics are other critical ERP management control features. Real-time data and insights help businesses make informed decisions and improve performance.
5. Process optimization and continuous improvement
Process optimization and continuous improvement are also crucial aspects of management control in ERP. They enable businesses to optimize their processes continually and identify areas to improve their performance. Businesses can increase efficiency and profitability by implementing process optimization and continuous improvement.
How Globe3 Management Control System able to help?
In conclusion, management control in ERP is critical to an organization's success. With the help of various tools and techniques, an organization can effectively monitor and control different facets of its operations. By using effective performance metrics, KPIs, dashboards, reports, and analytics, managers can identify areas for improvement and drive success. Make your ERP work for you and your business operations by following these five mobility dashboards integrated with multiple modules like finance management, customer relationship management, supply chain management, and human resources management to boost your tips. You only need our effective Globe3 ERP system with cloud computing and business productivity. Contact our Globe3 ERP consultants now for a free demo to learn how our system can help to optimize your business processes and enhance efficiency!