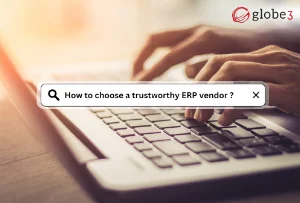 Posted on 8th May 2023
Our previous articles explored the advantages of ERP modules and their integration into business processes. In this article, we will shift our focus to the process of selecting a trustworthy ERP vendor. It is well known that ERP vendors provide organizations with software solutions that can help streamline their business operations, improve efficiency, and increase productivity. By selecting a reputable ERP vendor, organizations can benefit from a reliable, flexible, and customizable software solution that can help them to grow and adapt over time.


Here are 7 vendor selection criteria that can help you find the right one:
1. Experience and Expertise:
Look for vendors with a proven track record of successful ERP implementations in your industry. They should have a team of experienced professionals who are experts in their field. Choose an ERP vendor with extensive experience and expertise in your industry or niche. Ensure they understand your business needs and can provide a tailored solution that fits your requirements.

2. Customization and Integration:
Your business process analysis and requirements are unique. Ensure the ERP vendor's solution can scale as your business grows. Therefore, you need a vendor who can customize their ERP solution to meet your specific needs. An ERP vendor will work closely with the customer to understand your requirements and provide a tailored solution for your business processes.
READ MORE: Globe3 Services

3. Upgrades and Updates:
A trustworthy ERP vendor will regularly release upgrades and updates to their software to ensure that it remains up-to-date and can handle the organization's changing needs. This means the ERP system will continue functioning smoothly and efficiently as the organization grows and changes. In addition, a scalable ERP system can accommodate an organization's growth and changing needs over time while maintaining its efficiency and effectiveness. As a result, choosing a trustworthy ERP vendor can affect the system scalability of an organization.

4. Ease of Use:
Your employees will use the ERP system daily, so it should be easy to use and intuitive. Look for vendors who provide user-friendly interfaces and training. Ensure that the ERP system can integrate with your existing software and methods to avoid disrupting your operations. The vendor should be able to provide a clear plan for integration. A genuine ERP vendor will provide comprehensive user adoption and training, ensuring they are familiar with the software and know how to use it effectively. This will help the organization get the most out of its investment and ensure the system is correctly used.

5. Technical support and Maintenance:
A reliable ERP vendor will offer excellent technical support to their customers, helping them troubleshoot any issues with the software. They will have a team of experienced professionals who are knowledgeable about their product and can provide timely assistance. ERP systems require ongoing support and maintenance to ensure you get the most out of the ERP system. Look for vendors who offer comprehensive upgrade and maintenance plans, including regular updates and bug fixes. In addition, the vendor should offer training resources and provide a dedicated support team to address any issues.

6. Security:
Data security and privacy is critical for ERP systems. Your ERP system will contain sensitive business data, so choosing a vendor that prioritizes data security and provides adequate measures to protect your business data is crucial. A dependable ERP vendor will have robust security measures to protect the organization's sensitive data from cyber threats. In addition, they will ensure that their software complies with data privacy regulations and provide regular updates. Look for vendors who use the latest security technologies and have a strong track record of securing their clients' data.

7. Long-term partnership:
A trustworthy ERP vendor will view their relationship with the organization as a long-term partnership. They will be committed to the success of their customers and will work closely with them to ensure that their software meets their needs over time. It will help ensure that the organization gets the most out of its investment and stays ahead of the competition.

To Summarize,
To conclude, by considering these seven keys, our goal is to guide you in choosing a dependable ERP vendor so that the software runs smoothly and meets users' expectations. Accordingly, an ERP system can help organizations to manage their resources more effectively, reduce costs, and improve decision-making.

Globe3 ERP offers a scalable pricing solution.
Globe3 ERP, an innovative ERP software, is designed to offer a comprehensive and flexible pricing solution that is highly scalable to meet modern businesses' ever-evolving needs. Globe3 ERP Solutions Singapore is a viable option for small and medium-sized businesses looking for a cloud-based ERP system that can help your business streamline your operations, enhance business efficiency and achieve your business goals over time. To explore Globe3 ERP performance, feel free to Contact Us for a free consultation.