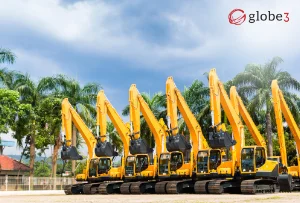 Posted on 26th May 2023
An Equipment Rental business is a company that provides various types of equipment, tools, machinery, or vehicles for temporary use to individuals or companies. In the rental market, multiple businesses such as construction equipment rental, marine equipment rental, landscapers, event planners, and other companies require equipment temporarily.

Equipment rental businesses typically have a range of equipment available for rent, including heavy equipment (bulldozers and excavators), construction tools (jackhammers and saws), lawn and garden equipment (lawn mowers and hedge trimmers), and fleet equipment (trucks and trailers), etc. The rental period can vary from a few hours to several weeks or months, depending on the customer's needs. Equipment rental businesses usually charge a rental fee based on the type of equipment rented, the rental period, and the condition of the equipment.

However, the equipment rental industry may face many management challenges beyond business owners' control. In this topic, we would like to discuss some strategies you can use to boost your equipment rental business:


These 6 strategies have been beneficial to thousands of our customers.
1. Expand your equipment inventory for accurate inventory management: Consider investing in new types of equipment or expanding your existing inventory to meet the needs of a broader range of customers. Diversifying your equipment offerings can help you attract new customers and increase revenue. Consider adding specialized equipment, more recent models, or equipment in high demand in your area.
→ An ERP system can also assist in asset tracking for equipment rental businesses. By integrating with barcoding and RFID technology, an ERP system can provide accurate and up-to-date information on the location and condition of each piece of equipment. This can help rental businesses quickly identify which equipment is available for rent, which is currently in use, and which requires maintenance or repair. Efficient asset tracking can improve customer satisfaction by ensuring the timely delivery of equipment and reduce costs by preventing loss or theft of equipment.

2. Provide excellent customer service: Be responsive to customers' needs, provide clear instructions on equipment usage, and ensure that your equipment is well-maintained and in good working order.
→ ERP can help equipment rental businesses provide better customer service by accessing customer information and history. This can help them understand customer preferences, anticipate their needs, and respond to inquiries and issues more efficiently.

3. Invest in Technology: Cutting-edge technology can help you streamline operations, automate processes, improve customer experience, and implement reliable rental management software.
→ Consider implementing an ERP system, a mobile app for online booking and payment, or other technologies that can improve your business efficiency and increase customer satisfaction.

4. Offer competitive pricing: perform market research to see what your competitors charge for similar equipment rental financing strategies. In addition, your business should offer competitive pricing to attract more customers. Analyze your costs to determine your break-even point and calculate your profit margin. It will help you set pricing that is competitive while still maintaining profitability.
→ An ERP system can help you accurately analyze the costs associated with your equipment rental business. You can determine your actual rental price by tracking equipment financing expenses, such as equipment purchase or lease, equipment maintenance, repairs, labor, and overhead. This will help you set a competitive, profitable price for your business.

5. Partner with other businesses: Partner with companies in your community to offer package deals or promotions. Building strategic partnerships with different companies can help you increase your customer base and expand your reach. For example, you could partner with a local construction company to offer discounted rates on equipment utilization for their projects. You are partnering with contractors, event planners, or other businesses that require equipment rentals to provide bundled services or discounts.
→ ERP can help equipment rental companies streamline their processes by making it easier to collaborate with partners, integrating all their business functions into a single system. This integration allows the company to have a centralized database of customer information, inventory, order processing, invoicing, reporting, and billing data, which can be automated and shared with partners. In turn, this enables them to understand their business operations better and helps them make informed decisions.

6. Improve Your Online Presence: A solid online presence is essential for business growth. Marketing and advertising are powerful tools for optimizing your website for search engines, implementing online booking and payment options, and leveraging social media. Therefore, focusing on online channels will enhance your brand image and help your business engage with customers more efficiently.
→ Globe3 ERP system can include a CRM module that tracks customer interactions, preferences, and history. This information can help you personalize your online marketing campaigns and provide a better customer experience.


Selecting the Best ERP Modules for Your Company
The key objective in any business is to focus on providing a high-quality customer experience, optimizing your business processes, and staying ahead of the competition. By leveraging the power of Globe3 ERP Software For Various Industries, you can streamline your operations, improve your inventory management, enhance your pricing strategy, establish partnerships, and improve your online presence.
You can visit the Globe3 ERP website and contact us for Free Consultation to learn more about our ERP Solutions Singapore and discuss how we can help boost your equipment rental business.