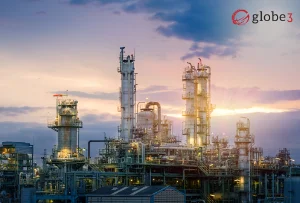 Posted on 21st Apr 2023
The manufacturing industry is growing due to all the rising technology and lean manufacturing techniques, as well as a strengthening economy. According to a recent Interact Analysis study, the global manufacturing sector's production rise by 4% in 2022. Although the future appears bright, the manufacturing business remains vulnerable to manufacturing difficulties as we enter the new year.

Manufacturers must be prepared to adapt and innovate to stay competitive, from supply chain disruptions and growing prices to the incorporation of new technologies and the impact of global trade disputes. In this article, we will look at three operational issues that businesses in the manufacturing industry will encounter in the next year.

Here is a list of manufacturing industry challenges and how to overcome each one:

1. Inventory Tracking
Inventory problems are rather typical in the industrial business. The manufacturing sector may be highly hectic, and it's challenging to stay organized and maintain track of inventory unless you carry a few goods. According to Entrepreneur.com, the fastest-moving goods account for only 20% of the stock.
Fortunately, there is a real-time tracking technology that may assist throughout the whole production process.These components of production may be unrelated. But, if you can't keep track of your inventory, it will directly impact your sales and production orders.
Solution
Some manufacturing companies have addressed inventory and production schedule issues by investing in a technology that may help you regulate these areas.Finding manufacturing ERP software to help you automate inventory management and schedule your projects will help you overhaul your fulfillment rate.
This allows you to focus on scaling your business instead of being overwhelmed by these management processes. So, if you don't have an inventory tracking system, now is an excellent time to start looking!
2. Supply Chain Disruption
For the foreseeable future, supply chain disruptions will be among the most significant difficulties confronting the industrial industry. Stocks are presently at their lowest levels in decades, implying that some items cannot be manufactured. For example, several automobile factories were forced to close due to a scarcity of semiconductors from Taiwan, China, and other offshore sources.
Many businesses may use intelligent technologies and automation to address some of the supply chain concerns we're experiencing today or, at the very least, make them easier to handle. Domestic production is also challenging. Bottlenecks in food processing, electrical equipment, and building materials are a few examples.
Solution
Timber scarcity and steel demand hit the building sector; rising construction material costs have forced several firms to reconsider starting growth projects. However, manufacturers considering this circumstance must consider other aspects such as loan rates, potentially lost income, etc. The "real-time" production attitude and restricted inventory expose flaws in industrial supply networks. As a result, businesses with financial resources are considering reverting to the days of stockpiling stocks, which is increasing the need for warehouse space.
3. Technology and Cybersecurity
The expanding number of linked devices and technological advancements necessitate enhanced cybersecurity. In addition, technical advances occur every other day, boosting demand and burdening producers to meet more outstanding orders.This is a source of concern for the average manufacturer, as they compete with large-scale manufacturing businesses that can afford to deploy AI to improve the efficiency of their production lines.
Several manufacturers continue to rely on outdated systems, while others have entirely embraced modern technologies. Both represent threats, and in today's increasingly digital environment, maintaining many levels of security, such as firewalls, multi-factor authentication, face recognition software, 24/7 monitoring, and others, is vital.

Solution
Updating secure, climate-controlled server rooms is also critical in protecting sensitive equipment and ensuring security. Manufacturing software, such as GLOBE3 ERP, provides manufacturing organizations the firepower to compete in the marketplace by solving any production difficulties that may arise under a single, simple-to-use visual dashboard.
In Conclusion
The manufacturing industry faces various challenges, including supply chain disruptions, technological advancements, workforce shortages, regulatory compliance, cost management, and environmental concerns. To overcome these challenges, manufacturers need to adopt innovative strategies and stay updated with industry trends and best practices. They should focus on implementing automation and digitization technologies, adopting agile and lean manufacturing practices, developing a skilled workforce, embracing sustainability, and collaborating with suppliers and partners.
When using GLOBE3 ERP, you can expect to find the following:
Production Planning

Material Resource Planning (MRP)
Bill of Material (BOM)
Machine Capacity Planning (MCP)
Material Planning Process
Rescheduling Proposal
Multi-factory Scheduling



Progress Management

Real-time Reporting
Real-time Comparison between planned and actual progress
Production Planning, Routing, Calendar
Set Up Key Deadlines



Site Management

Job Order
Work Order
Machines
Work Centres
Globe3 ERP is an advanced cloud-based ERP software that provides a comprehensive solution for manufacturing companies to streamline their operations, manage their supply chain, and improve their business processes. It offers features like inventory management, production planning, financial management, and reporting, which helps manufacturers to reduce costs, increase productivity, and optimize their supply chain. By implementing Globe3 ERP, manufacturers can overcome the challenges they face and achieve long-term success.
Need An ERP Solution?
If you have any questions, please do not hesitate to contact us and we will get back to you shortly.
Contact Us