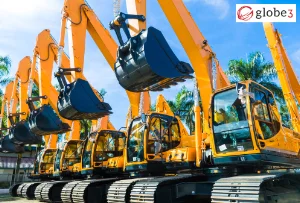 Posted on 25th Feb 2023
The rental industry is challenging, and demand may be highly irregular and unmanageable if not correctly tracked. Seasonal and economic swings can make it difficult for a company that has taken out finance to acquire an expensive piece of equipment to get the most bang for its buck, especially if it sits idle during sluggish months of commerce. There's also the issue of staying current with the latest models and technology. Especially, rental equipment businesses face unique obstacles. With responsibilities such as quotes, analytics, cash flow management, equipment lifecycle monitoring, and asset/fleet management, overall visibility is essential for operational efficiency.

This article discusses some of the common challenges rental companies face, like yours, and how you can overcome them.

1. Taking control of a complex business.
As you add rental operations to your company, you will add new duties such as rental quotations, rental desk, analytics, cash flow management, equipment lifecycle management, and fleet management. The overwhelming number of business procedures and functional activities that must be executed and monitored will be your principal problem. It can be challenging to locate a single system capable of handling the task, so many dealers use numerous methods to manage their dealership, service engineers, and rental operations.
Solution: Using a single ERP solution that spans the business operations of dealers and renters to increase visibility. This strategy also provides a foundation for future expansion and growth.
2. Monitoring the availability of equipment.
Tracking equipment availability is an integral part of managing reservations. Otherwise, how would you know what equipment is available and when it is accessible? In addition, you want to avoid overbooking and disappointing at least one customer. Again, manually tracking this element is not an option. It's all too simple to enter inaccurate info or neglect to update things. In addition, it can make adequately monitoring equipment availability challenging.

Solution: Consolidate data into an easily accessible and shared dashboard Keeps track of all your equipment's availability, motions, and position, allowing you to track existing and upcoming reservations conveniently. It also allows your clients to check rents in and out quickly and immediately alerts your employees so they are updated.
3. Increasing the use and resale value of your fleet.
Traditionally, your dealership has provided sufficient equipment, parts, service, and maintenance to meet client demand. However, as your business shifts more toward rental, you must be able to anticipate market demand in advance, manage changes in your cash flow profile, and maximize utilization (days on rent). Furthermore, you can derive from investment in your fleet, all while ensuring that your equipment is serviced regularly to optimize resale value at the end of its rental life.

Solution: To accomplish this, it requires asset management software that provides insight into all of your rental equipment, service records, and spares and accessories. This visibility can help you decrease equipment downtime and boost usage. Your software should also track your warranties so that you may recoup warranty-related charges.

Why choose Globe3 ERP?
An excellent management platform, such as Globe3 ERP software, is critical for any rental firm. You can now wave goodbye to all manual business processes and grant yourself to focus on the bigger goals in the future with the help of Globe3 ERP Equipment Rental Software.