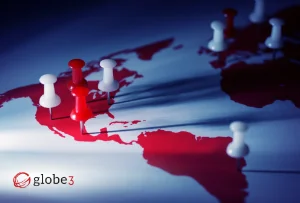 Posted on 2nd May 2023
Global Business Expansion refers to extending a business beyond its home country's borders (often referred to as its home market) into a new international market (often referred to as the target market). It can involve establishing a physical presence in foreign markets, such as opening new offices, factories, or retail locations or expanding into new markets through online channels.
Global business expansion is a strategy companies use to increase revenue, tap into new markets, and diversify their customer base. Success requires careful planning, market research, and a deep understanding of local cultures, regulations, and business practices.

Expanding a business beyond the nation can be a challenging and complex process. Here are some of the main challenges companies face when expanding internationally:

Cultural Differences
Cultural differences can significantly impact business operations, including cross-cultural communication, business practices, and consumer behavior. Businesses must adapt to these differences to effectively communicate with customers, suppliers, and employees in foreign markets.

Legal and Regulatory Requirements
Different countries have different political and legal regulations that businesses must comply with when operating in foreign markets. Include taxes, licensing, permits, product safety, and labeling regulations.

Language Barriers
Language barriers can create communication difficulties, making establishing relationships with suppliers, partners, and customers challenging. However, businesses must communicate effectively in the local language to build trust and establish a presence in new markets.

Expanding a business can create logistical challenges, including shipping, customs, and distribution. Managing a global supply chain requires coordination and careful planning to ensure timely delivery of goods and services.
YOU MAY ALSO READ: Key Objectives of Supply Chain Management - Globe3 ERP
Economic and Political Risk.
Economic and political risks such as currency fluctuations, trade barriers, and political instability can impact business operations and profitability. Therefore, businesses must carefully assess and manage these risks to ensure no negative impact.

Talent Management
Expansion may require hiring and managing employees in different countries. As a result, we have seen many challenges in finding and retaining talented individuals and ensuring compliance with local labor laws and regulations.

Economic and Political Risk.
Building brand recognition in a new market can be a significant challenge. Therefore, businesses must invest in marketing and advertising to establish a presence in foreign markets and build brand awareness among potential customers, which enhances the adaptation to local customer preferences.
Expanding requires careful planning, attention to detail, and a willingness to adapt to local market conditions. By understanding and managing these challenges, businesses can successfully expand their operations and achieve sustainable growth in new markets.

Succeeding with Global Expansion
Global expansion has its own set of challenges. Organizations that are planning to go for international development must take note of these challenges. Most of the matter could be resolve in timely matter with implementation of a good software that provide real-time insights for critical business decision.
Reach out to the Globe3 ERP consulting team. The Globe3 team has expertise in building businesses in multiple countries with the help of our ERP services, from market entry strategies to keeping your business compliant with the changing regulations in various jurisdictions, such as currency exchange and financial management, and international payrolls.