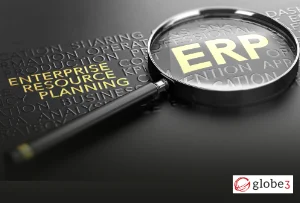 Posted on 8th Feb 2023
Top 5 ERP Software Systems in 2023
ERP software has become increasingly crucial for businesses in Singapore, as it allows them to streamline their operations, manage their resources more efficiently, and make informed decisions based on real-time data. As we enter 2023, the market for ERP software in Singapore continues to evolve, with new players entering the fray and established vendors refining and improving their offerings. In this article, we will look deeper at Singapore's top 5 ERP software solutions in 2023 and explore their key features and benefits.


Globe3 ERP is a cloud-based ERP software that provides end-to-end business solutions for small and medium-sized enterprises. Globe3 ERP helps businesses streamline operations and increase productivity with a user-friendly interface and customizable features. Its key features include financial management, enterprise project management, supply chain management and human resource management.
Our mission is to deliver a comprehensive and customized ERP system that caters to the specific business needs of Medium to Large Enterprises. We strive to provide an end-to-end solution that addresses critical business processes, streamlines operations and maximizes efficiency.
At the same time, our vision is to establish Globe3 as a premier Enterprise Resource Planning (ERP) solution that sets the standard for excellence in the industry. Our goal is to create world-class software that meets the unique requirements of Medium to Large Enterprises, providing them with unparalleled functionality, scalability, and flexibility.
INFOMASTER ERP
InfoMaster ERP Software is a comprehensive and user-friendly accounting and enterprise resource planning solution that has been assisting companies for the past 30 years. It uses a task-based approach with real-time information inquiry and an integrated design to make ERP easy and functional. InfoMaster ERP design their software with a focus on innovation, simplicity, and efficiency, and it is designed to meet the day-to-day operational, financial, accounting, and reporting needs of businesses.

HIGHNIX ERP
Highnix ERP is an integrated business management software that offers financial management, procurement, inventory management, and project management solutions. Its user-friendly interface and flexible features make it a popular choice for businesses in Singapore. Highnix ERP's mission is to help companies to achieve operational excellence and sustainable growth through innovative software solutions.

MICROLABS
Microlabs.com.sg is a Singapore-based company that provides enterprise resource planning (ERP) solutions to businesses. They offer a range of services and solutions, including Microsoft Dynamics Nav, Smart Office Web Portal, MS Dynamics CRM, and mobility solutions like MPOD and warehouse management. Microlabs aims to simplify and enhance all aspects of business operations by providing IT solutions that add value to businesses. Additionally, they offer consulting and outsourcing services to small and mid-sized businesses.

MATIYAS
Matiyas is a leading provider of cloud-based ERP solutions for businesses in Singapore and worldwide. Its key features include financial management, inventory control, project management, and customer relationship management. Matiyas' mission is to help businesses achieve their goals by providing a comprehensive and customizable ERP system that meets their needs.

Conclusion
These are Singapore's top 5 ERP software solutions for 2023. Each of these software solutions has its unique features and benefits.
Globe3 ERP is an ideal solution for businesses across various industries in Singapore for its user-friendly interface, flexibility, and comprehensive end-to-end business solutions .Globe3 ERP have the complete suite of modules, including construction management software, supply chain management, material requirement planning software, and human resource management, provides businesses with the right software they need to achieve their goals. With its focus on empowering businesses to reach their full potential, Globe3 team is committed to helping businesses in Singapore succeed.