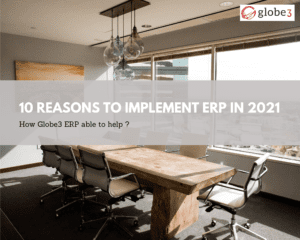 Posted on 18th Jan 2021
SMEs to consider implementing ERP.
Implementing a comprehensive ERP system for some small businesses may appear unnecessary. However, if you are starting or intend to expand your business, you will eventually require an ERP system. ERPs provide the data you need to succeed, from data analysis to reporting, tracking, accounting, and automation. We're trying to say that spreadsheets can only take your company so far, and even though ERPs cost a lot, the return on your investment is worth it – we'll show you why.
In 2021, here are TEN reasons why your company should consider implementing an ERP system.
1. Boost Productivity – These laborious and manual day-to-day tasks are unavoidable in an ERP system's absence. For example, making reports, keeping time sheets and checking inventory levels are all tasks that can take up much time and allow for human error. However, such studies can be automated with the right ERP solution, freeing up staff members' time and ensuring data accuracy throughout your business.
2. Improved Business Accounting and Reporting – When expanding your business, you must have complete control over your finances and an overview. However, the complexity of your financial data can become overwhelming if you do not have an effective IT solution. So, how can an ERP system benefit you? With dashboards and reporting, an integrated ERP system can take this data, make sense of it, and show it in a way that is easy to understand.
3. Great Flexibility – Great ERPs enable you to connect data from multiple sources into a single, streamlined platform, providing a single, adaptable system for all your company's departments. It entails using tools like Shopify, HubSpot, and Salesforce to your advantage. In addition, today's cutting-edge ERP system can handle various features that provide your company with accurate data.
4. Customer Service Enhancement – It is essential for expanding businesses to capitalize on both new and existing customer relationships. The ability to cross-sell and up-sell to many customers effectively opens numerous doors to additional revenue. In addition, ERPs offer order fulfilment features to ensure demand with supply and better customer information distribution across departments.
5. Cost Saving – ERPs help decision-makers better plan their strategy for a more profitable future by providing real-time data on your company's operations, which reduces costs. ERPs are also very helpful in reducing administrative work and, as a result, human errors. Consider this: There is a good chance that your employees will make a few mistakes because they spend their day repeating manual tasks. Data can be sent from one part of the system to another with automation without the risk of human error, which could cost your company money.
6. Better Inventory Management – Tracking and monitoring the growing inventory levels is a significant obstacle for expanding businesses. ERP systems track your inventory throughout the supply chain using barcodes, serial numbers, and RFID tags. As a result, you can monitor which products are on the shelves, ready for customers, and where they are, including in various warehouses—optimizing your warehouse's visibility to enhance the overall efficiency of your operations. Thanks to ERP's assistance, your company will gain clarity and be free of speculation.
7. Compliance Simplification – When your business plans to expand internationally, keeping track of the various regulations in place may be challenging. There are numerous HR and information security regulations that local businesses must consider. Most ERP systems include this during the designation. It makes it simple to generate reports and send them to relevant governing bodies because it contains built-in auditing tools to help document important business information.
8. Real-time Analytics and reporting – Having easy-to-understand and understandable data are essential for getting the end user's analysis. In addition, they can help you fix any problems with your business. ERP gives you detailed reports that are easy to use, useful, and relevant to your business. We can accomplish this with customization dashboards, pie charts, Gantt charts, and other visual representations.
9. Mobile Accessibility – In the cutting-edge business world, versatility is a critical calculation guaranteeing finishing work on time. Research has shown that COVID and lockdown regulations make it impossible for employees to travel to work. Using a smartphone, you can access relevant information from anywhere worldwide, allowing work to continue regardless of the circumstance. It is impossible to overlook remote access. Therefore, when choosing an ERP system, look into mobile integration options.
10. Standardized Business Procedures – Since industry best practices design many ERP systems, they offer significant advantages to businesses worldwide. Your company can standardize its systems by utilizing a tried-and-true procedure, improving efficiency across all departments. Because of this, you can deliver consistent outcomes and continuously enhance your operational methods.
Following actions
Choosing an ERP implementation partner is crucial to one's company's future. The significance of an ERP to your company is inevitable. It far outweighs the time and money required to implement it properly. But it would be best to have a reliable implementation partner like Globe3 ERP to get the most out of your investment. Therefore, we will take the time to learn about your needs, suggest a solution that works best for your business, and help you every step of the way.
Globe3 ERP has more than ten years of ERP implementation experience; we've helped more than 300 businesses in Malaysia and worldwide. We assist businesses with highly customizable solutions and individual requirements to ensure your company has everything it needs to succeed. So contact Our Consultant right away by clicking this LINK, and we'll let you know how we can help. You can also send us an email at sales@globe3.com or give us a call at +65 6749-8823.